Welcome to the Kearny Mesa Moose Lodge!
We are open again on Saturdays for outside dining and carry-out.
Lots of notifications, so please bear with me and read everything!

Saturday dinner - see the beautiful flyer made by Carmen. Please RSVP preferably no later than Friday evening. ALSO, Simon King is going to teach me how to bake, and we will be selling loaves of DELICIOUS Amish Cinnamon Bread to raise funds for our property tax installment coming up in April. Please email/text/call me to place an order! We will make about 20 loaves, and they'll go fast! $10 per loaf.

 
TAX RAFFLE TICKETS have been mailed to all members. Please be as generous as you can afford to help the Lodge raise the much needed funds. More tickets are available for purchase. Please contact me, Kenny, or see the bartender during Saturday dinner service.

 
MARCH calendar - check out what's happening at Kearny Mesa! Mark YOUR calendars for Saturday, March 13th. DJ SOUND EXPRESS, Aaron Valencia, will be entertaining us as we're chowing down on All-U-Can-Eat TACOS! We will have a silent auction to raise funds for the LOOM and WOTM general funds. Thank you to Chad and Bernadette for organizing!

 
March 17th is St. Patrick's Day, and we will be OPEN (hopefully indoors, but if not, in the parking lot). Patty will be serving her famous Corned Beef and Cabbage!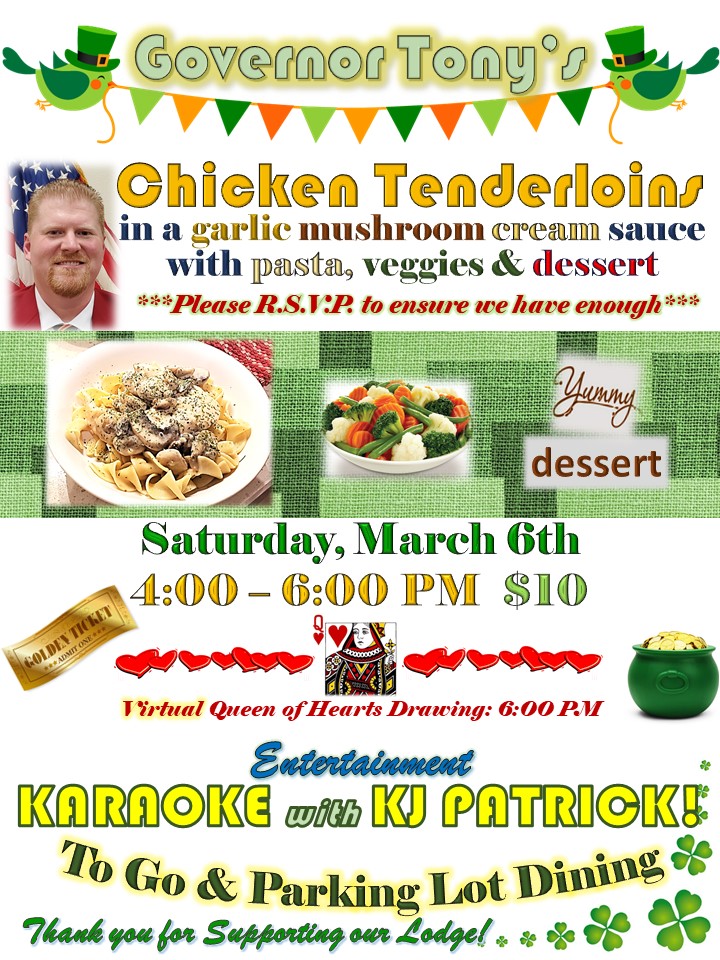 PLEASE RSVP to guarantee yourself a meal!

To RSVP, please contact me, Tony George, at This email address is being protected from spambots. You need JavaScript enabled to view it., the lodge at This email address is being protected from spambots. You need JavaScript enabled to view it., or call me at 858-336-2470. Thank you!
Check our our full calendar by clicking HERE.